Welcome to the heart of Parnell
BOOK DIRECT and access DISCOUNTS to local ATTRACTIONS.
Overlooks the Rose garden
Low noise Mitsubishi air conditioning units
Our friendly team look forward to welcoming you at our NZ owned and operated hotel.
Located in one of Auckland's oldest and most prestigious suburbs neighbouring the picturesque Parnell Rose Gardens and an easy stroll to the vibrant buzz of Auckland's downtown CBD, the Auckland Rose Park Hotel pairs comfort with convenience for travellers, families and conference groups.
Set on a sprawling site of more than 7,000 square metres with ample free car parking, the Auckland Rose Park Hotel boasts 111 rooms, comprehensive conference facilities, a swimming pool and the Garden View restaurant - the only restaurant in the city to enjoy sunny views over the spectacular Sir Dove Myer Robinson Park and the Parnell Rose Gardens.
Equipped with a long history of visitor satisfaction, repeat guests appreciate our hotel's incredible city-adjacent location from which world-class café's, cocktail bars and art galleries at Parnell Village are just a stone's throw or an easy walk down the hill delivers you to events at the city's premier concert venue Spark Arena.
Extensive conference facilities include bespoke packages that cater specifically to your group's needs, and from sports groups to international businesses.Auckland Rose Park Hotel has a proud history of hosting successful functions, events, seminars and conferences.
read more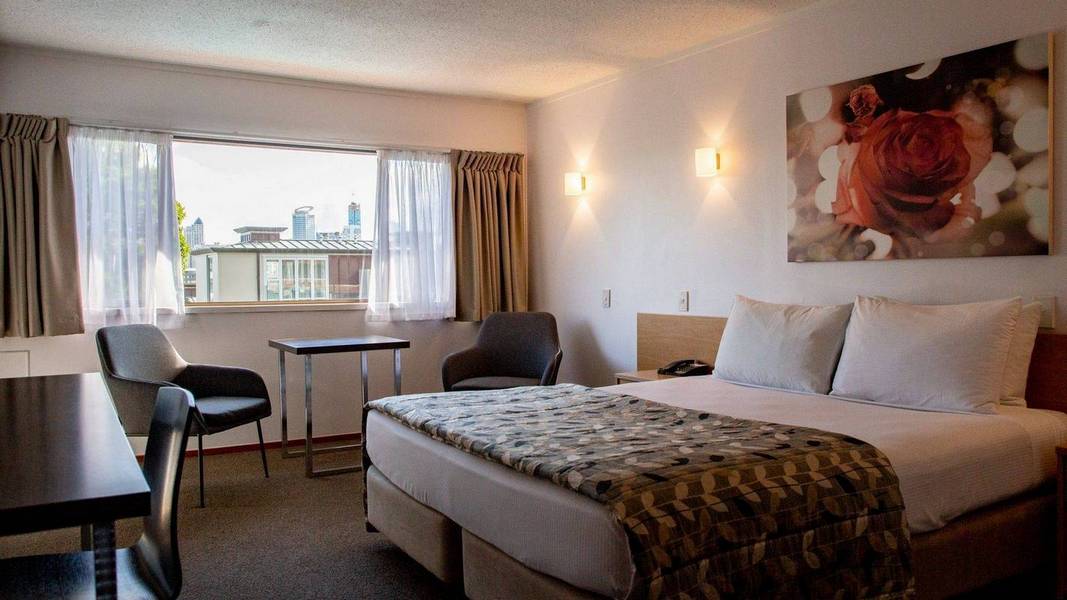 Our Rooms
A popular hotel for both business and leisure travellers, we offer accommodation of various configurations offering tasteful and comfortable furnishings and décor.
View All Rooms
What our guests have to say
Great family holiday place. Great staff, great buffet breakfast and lovely pool. Free parking which is a big bonus in Auckland. Lovely Rose garden to stroll around across the road.
Diana
New Zealand
Good Stay - Good location, close to Parnell and central Auckland. Room was very clean, good amenities. Enjoyed the buffet breakfast.
Devon
New Zealand
Comfortable, central and pleasant Friendly staff, clean and comfortable, great central location and good parking. Great shower pressure too. Nothing we didn't like
Robyn
New Zealand
Read all reviews