Welcome to the heart of Parnell across from the famous Auckland Rose Gardens
Our team is busy working with an outstanding team to undertake renovations to each and every bathroom along with updating of our guest rooms. We are excited for this and are completing this in stages. We are the closest hotel to Spark Arena with complimentary on site carparking and our location is excellent for the CBD, the motorway networks, Parnell district, Newmarket, Tamaki Drive and plenty more! Come and stay with us for great food, great kiwi hospitality and an overall outstanding guest experience.
All rooms have WIFI access
Overlooks the Rose garden
Low noise Mitsubishi air conditioning units
Our friendly, experienced team look forward to welcoming you to our kiwi-owned and operated hotel in Auckland, NZ.
Located in one of Auckland's oldest, most prestigious suburbs and neighbouring the picturesque Parnell Rose Gardens, the Auckland Rose Park Hotel offers comfort and convenience for travellers, families, and conference groups. Our Parnell hotel is near Spark Arena in Auckland and is also an easy stroll to the vibrant buzz of the Auckland CBD.
All of our rooms have individual high quality air conditioning units along with opening windows for fresh air.
One of the few hotels near the Auckland CBD with a swimming pool and complimentary parking.
Stop looking for another cheap hotel in Parnell and try the Auckland Rose Park Hotel instead. Set on a sprawling site of more than 7,000 square metres with ample free car parking, our accommodation in Auckland NZ boasts 111 rooms, comprehensive conference facilities and a swimming pool. We're also home to the lovely Garden View Restaurant and Lounge Bar - the only restaurant in the city to enjoy sunny views over the spectacular Sir Dove Myer Robinson Park and the Parnell Rose Gardens.
With a long history of visitor satisfaction, our guests return to enjoy terrific accommodation with options to suit any budget. Accommodation in Auckland that is accessible, clean and well-presented can be hard to find – and our incredible location sets us apart from all the rest. From our enviable cityside location, world-class cafés, cocktail bars and art galleries can easily be explored, and the historic shopping and eating village of Parnell is just a stone's throw away.
Auckland Rose Park Hotel has a proud history of hosting successful functions, events, seminars and conferences. To complement our extensive conference facilities, we offer bespoke packages that cater specifically to your group's needs - from sports groups to international businesses.
read more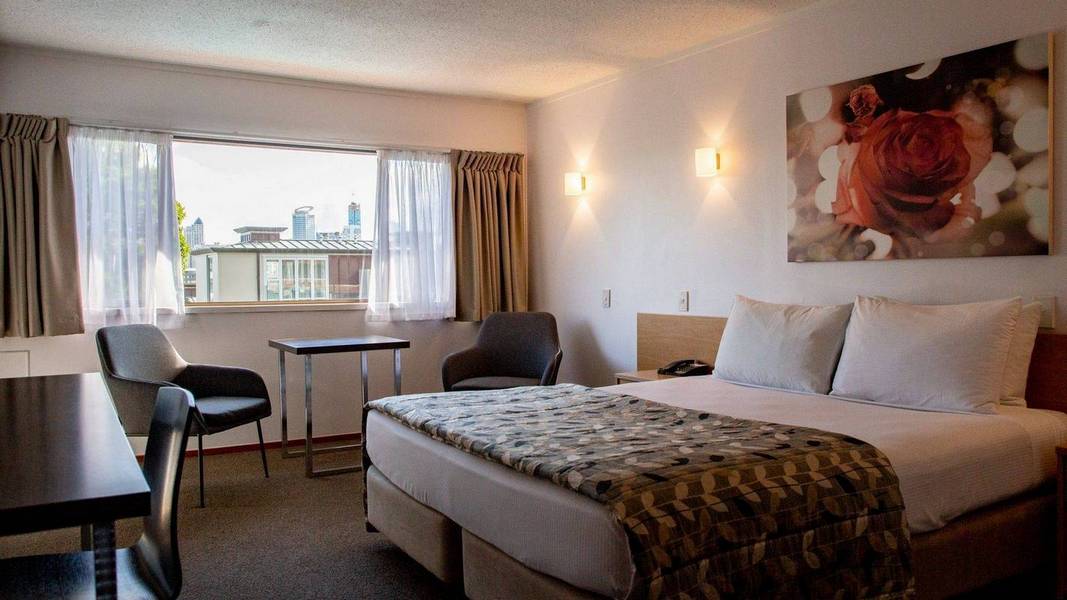 Our Rooms
Popular with both business and leisure travellers, our accommodation in Parnell, Auckland offers accommodation in various configurations with tasteful and comfortable furnishings and décor.
View All Rooms
What our guests have to say
Very enjoyable, Room good, location excellent, food excellent, staff helpful and friendly
Rosemary
New Zealand
Comfortable bed. Staff obliging. Very pleased with service and customer support
Charmaine
New Zealand
Breakfast buffet, parking, location
Toni
New Zealand
Great accommodation in Auckland, much better than fancy hotels or anonymous apartments. Excellent Motel. An old lady who shows her age a bit but that doesn't matter at all. Very clean and 2 big comfortable beds in the room. Everything you need
Cass
New Zealand
Great value for money lovely central location. Would definitely stay again.
Helen
New Zealand
I'll be back!!!! Located next to the Parnell Rose Gardens. Great value with free Parking. Many SKY Tv channels in room. Great VALUE!!
Ant
New Zealand
Will stay again! Excellent location, great staff and good and clean! A bit dated, doesn't matter though cleanliness location and staff make up for it
Nick
New Zealand
Perfect place to stay with young family visiting Auckland I like how central the hotel While still being away from all the noise of central city. Handy to everywhere. Rooms great value for money as is the breakfast - our kids loved the pancakes !
Merle
New Zealand
Great stay! Always a great stay. Staff are awesome and so accommodating. We needed our babys bottle heated up and the reception was more than happy to do this for us no matter what time of day it was. Made our stay a pleasant one and took away my
Taneisha
New Zealand
Staff are super helpful, and room was beautifully clean and spacious. Very comfy beds and lovely and warm. Had a lovely breakfast each morning at the buffet and the breakfast staff were excellent at making sure everything was topped up. Easy walk
Trudy
New Zealand
Read all reviews